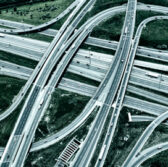 The Department of Transportation is seeking comments on how recent technology developments would affect the deployment of dedicated short-range communications for connected-vehicle transmissions.
DOT mainly wants to hear from stakeholders and the general public about technology platforms that may support or change vehicle-to-vehicle, vehicle-to-infrastructure and vehicle-to-pedestrian communications, according to a Federal Register notice posted Dec. 26.
The department also seeks feedback on a proposal to revise the spectrum framework for DSRC to allow other technologies to remain tech-neutral and support transportation innovation.
Submissions should include input on current or future systems such as LTE and 5G communications, interoperability of such communications tools, its security issues and how they can support emerging automated vehicle applications.
Industry as well as state and local governments are already deploying connected vehicles that use DSRC, the department noted.
The cities of Denver and Columbus use short-range communications in their smart city projects and connected vehicles. Meanwhile, General Motors and Toyota are also utilizing DSRC-based tools in their future vehicles.
DOT will accept comments within 30 days after the date of notice issuance.