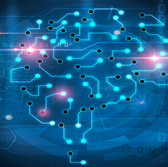 The Defense Advanced Research Projects Agency will hold an event on Wednesday to discuss a two-phase initiative to develop an artificial intelligence technology that would uncover and understand complex events from multimedia sources.
DARPA said Friday it seeks to build a semi-automated system to determine correlations between unrelated events or data and generate actionable insights that could inform national security efforts as part of the agency's Knowledge-directed Artificial Intelligence Reasoning Over Schemas program.
"The process of uncovering relevant connections across mountains of information and the static elements that they underlie requires temporal information and event patterns, which can be difficult to capture at scale with currently available tools and systems," said Boyan Onyshkevych, a program manager at DARPA"™s Information Innovation Office.
The first phase of the program will focus on creating schemas from huge volumes of data through linguistic inference and common sense reasoning.
DARPA noted it will then apply the schemas to multimedia, multilingual information under the program"™s second phase in efforts to identify events, entities and their relationships.
The Proposers' Day will take place at Holiday Inn in Fairfax Drive, Va.