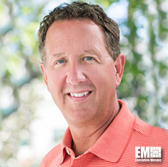 Viasat has updated a device built to help government and military customers secure networks that process sensitive information.
KG-142 now works to protect Layer 2 Ethernet communications for big data processing and cloud computing applications, Viasat said Wednesday.
The National Security Agency-certified network encryptor is designed to help users simultaneously operate up to 32 peer-to-peer connections at a speed of 10 gigabits per second.
Ken Peterman, president of Viasat's government systems business, said the upgrades are part of the company's efforts to support government network security and cloud migration processes.
Peterman added the device is built to comply with national security communications standards.