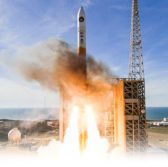 United Launch Alliance rescheduled for Tuesday, Dec. 18, the launch of a National Reconnaissance Office payload aboard a Delta IV Heavy rocket.
The NROL-71 mission will still lift off from Space Launch Complex-6 at Vandenberg Air Force Base in California as originally planned, the company said Thursday.
ULA initially scheduled the launch for Dec. 7 but was canceled due to a problem with a redundant communication link between the control center and the launch site.
The planned Dec. 8 launch date was also called off after the company noticed an "unexpected condition during terminal count at approximately 7.5 seconds before liftoff."
Once launched, the NROL-71 mission will join the more than 130 satellites ULA sent to orbit in support of Earth observation, global communications, solar system exploration and technology missions.