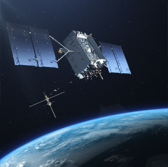 The first GPS III satellite that Lockheed Martin built for the U.S. Air Force took off Sunday from Cape Canaveral Air Force Station in Florida aboard SpaceX"™s Falcon 9 rocket.
GPS III Space Vehicle 01 established communications with the defense contractor"™s launch-and-checkout facility in Denver nearly two hours after launch, Lockheed said Sunday.
"In the coming days, GPS III SV01 will use its liquid apogee engines to climb into its operational orbit about 12,550 miles above the Earth," said Johnathon Caldwell, vice president for navigation systems at Lockheed.
"We will then send it commands to deploy its solar arrays and antennas, and begin on-orbit checkout and tests, including extensive signals testing with our advanced navigation payload provided by Harris Corporation," Caldwell added.
The satellite, nicknamed "Vespucci," will broadcast the L1C civil signal intended to be compatible with Europe"™s Galileo and other international navigation satellite systems.
The Air Force granted the "available for launch" status to the second GPS III satellite in August and expects the spacecraft to launch in 2019.
"By this time next year, we expect to also have a second GPS III on orbit and users should be receiving signals from this first satellite," Caldwell said.
The GPS III SV03-08 satellite has entered the assembly and testing phases.
The service branch initially ordered 10 GPS III satellites and awarded Lockheed a $1.36B contract in September to produce the 11th and 12th GPS IIIF satellites as part of the potential $7.2B GPS III follow-on program.