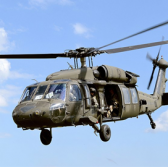 Ron Hutter and Mike Sousa of General Electric told Defense News in an interview published Thursday about the company's proposed technology for the U.S. Army's Improved Turbine Engine Program.
ITEP seeks to build a new engine for integration with the service branch's existing helicopters and aircraft under the Future Vertical Lift program.
Hutter, executive director of the T901 engine program at GE, said the company sent its final proposal for ITEP in October and expects the military branch to down-select between January and February.
Sousa, business development leader for advanced turboshaft engines at GE, discussed the drivers for the program and the Army's requirements.
"So they were losing capability in terms of how much payload they could carry, how far they could go, because they had heavier helicopters," Sousa told the publication.
"Getting that capability at higher and hotter conditions than it was designed to do originally and being able to fly farther, being able to take things on longer missions, were the drivers for the program."
Hutter and Sousa also explained about the company's decision to go for a single-spool engine configuration for ITEP.
The report said GE proposed a new variant of its engine already installed on the Army's AH-64 Apache and UH-60 Black Hawk helicopters.