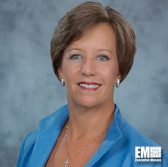 Rebecca Cowen-Hirsch of Inmarsat Government has said leaders at the Department of Defense must incorporate procurement and funding for operations and maintenance into the Future Years Defense Program to streamline the acquisition of commercial satellite communications capabilities as part of the integrated architecture.
"This kind of strategic planning will lay a foundation of optimal satcom acquisition – the continuation of O&M within the appropriations budget, supporting a program wrapped around commercially-delivered capabilities," Cowen-Hirsch, senior vice president for government strategy and policy at Inmarsat Government, wrote in a Via Satellite article published Friday.
Hirsch called on DoD to integrate commercial satcom enhancements into fiscal 2020 budget plan and Program Objective Memorandum.
"Doing so will deliver operational benefits for critical military missions for years to come, meeting global and mobile demands against a highly dynamic operational and threat environment," she added.
She also mentioned the potential benefit of allocating $49.5M in research, development, test and evaluation funds to establish a new program of record for comsatcom in the U.S. Air Force.
"While the $49.5M figure may appear relatively modest, it represents a promising launch point for the more strategic acquisition of comsatcom — laying the groundwork for an interoperable, yet heterogenous network," she noted.