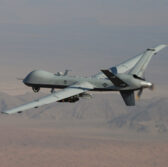 The U.S. Air Force has awarded a one-year, $59.2M contract to Raytheon to provide logistics support services for sensors used on the MQ-9 Reaper unmanned aircraft.
Work under the cost-plus fixed-fee, firm-fixed-price contract includes program management, supply and logistics support, service-representative support, inventory control point and warehousing, the Department of Defense said Friday.
The McKinney, Texas-based company will also assist the Air Force in depot repair and maintenance, sustainment engineering, configuration management, and tech data and software maintenance for the MQ-9 sensors.
The service branch obligated $37.7M in fiscal year 2019 operations and maintenance funds at the time of award.
Raytheon received the contract through a sole-source acquisition with the Air Force Life Cycle Management Center.
The Air Force also recently tasked General Atomics to provide support services for MQ-9's operations and maintenance under a one-year, $291.3M contract.