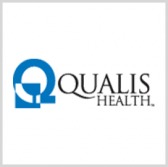 Qualis Health will continue to provide utilization management services for Medicaid beneficiaries in the District of Columbia under a contract renewal from the D.C. Department of Health Care Finance.
The health management organization said Thursday it will help DHCF review medical services for more than 67K fee-for-service participants in the government health care program.
Under the new contract, Qualis Health will also develop approaches to monitor and evaluate care quality, establish a quality improvement collaborative and create an annual survey focused on nursing homes.
DHCF has worked with the organization in utilization management efforts since 2014.
Qualis Health currently provides similar services to Medicaid programs in Alabama, Alaska, Idaho, Kansas, New Mexico, Washington and Wyoming.