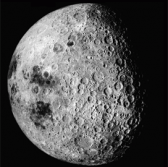 Some industry executives have said that NASA's Commercial Lunar Payload Services program has provided companies an opportunity to advance their technology platforms and form partnerships with additional firms, SpaceNews reported Thursday.
"Going back to the moon with commercial technology opens the floodgates," said Grant Anderson, president, CEO and co-founder of Paragon Space Development, which teams up with Moon Express on the CLPS program.
Moon Express is one of the nine companies that won spots in November on the potential 10-year, $2.6B CLPS contract to deliver scientific instruments and other payloads to the Moon.
Aside from Paragon, Moon Express collaborates with NanoRacks, Sierra Nevada and Odyssey Space Research.
Alan Campbell, space systems program manager at Draper, noted that every team on the CLPS program will need to work with partners.
Draper's team includes General Atomics, ispace and Spaceflight Industries, while Lockheed Martin will work with Aerojet Rocketdyne and other small businesses on CLPS.
Orbit Beyond's CLPS partners include Honeybee Robotics Exploration Technology Group, Ceres Robotics and Apollo Fusion.
Another CLPS awardee is Deep Space Systems, which partners with Deep Space Communication Systems and Advanced Solutions on the initiative, according to the report.