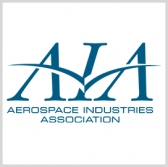 The Aerospace Industries Association has appointed Harris CEO William Brown as chairman of AIA's board of governors and named Collins Aerospace CEO Kelly Ortberg as vice chairman.
Harris said Monday Brown succeeds Thomas Kennedy, chairman and CEO of Raytheon, as board leader for its centennial year in 2019.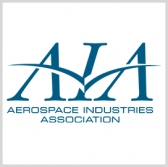 "I look forward to advocating for key industry issues, such as securing stable, predictable defense and non-defense budgets, and pushing for trade and export measures that will allow us to stay globally competitive," Brown said.
He assumed the president and CEO roles at Harris in November 2011 and took on the additional position of chairman in April 2014.
Ortberg began his industry career in 1987 with Rockwell Collins, which United Technologies Corp. recently acquired for approximately $30B and combined the avionics manufacturer with UTC's aerospace systems business to form Collins Aerospace.
AIA re-appointed Eric Fanning as the association's president and CEO. The trade group also named Leidos Chairman and CEO Roger Krone to serve on its 2019 executive committee along with other several GovCon industry executives.