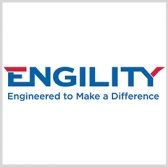 Engility CEO Lynn Dugle has accepted the 2018 Lifetime Achievement Award from the Washington Business Journal in recognition of her more than three decades of contributions to the defense and aerospace industry.
Dugle received the recognition on Thursday, Dec. 6, during an awards ceremony held in Washington, D.C., the company said Friday.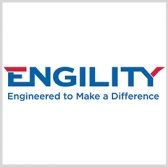 Dugle's "extensive career and bold leadership make her an extraordinary business woman and colleague," said Tony Moraco, CEO of Science Applications International Corp.
"I am honored to have worked with Lynn and am proud to continue her legacy through SAIC's acquisition of Engility," Moraco added.
SAIC agreed to acquire Engility in September through a $2.5B all-stock transaction to form an independent government tech services contractor.
Dugle, who also serves as Engility president and chairman, came out of retirement in 2016 to serve as the Chantilly, Va.-based technology services contractor's CEO.
She has led efforts to increase investments in technologies and employee development initiatives and streamline the firm's organizational structure since she took the helm.
Prior to Engility, Dugle held leadership positions at Raytheon, Texas Instruments and ADC Telecommunications.
Dugle and Moraco are both 2018 Wash100 recipients.