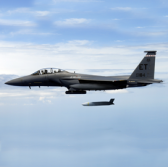 The Department of Defense aims to include $1.2B in funding in its fiscal year 2020 budget request to support the acquisition of the newest versions of the F-15 aircraft, Bloomberg reported Friday.
DoD officials said the agency hopes to buy 12 of the new Boeing-built F-15X fighter aircraft for the Air Force.
The plan is part of the agency's effort to replace the Air National Guard's aging F-15C variant, which was last produced in 1980.
Boeing builds the F-15 in St. Louis in Missouri, in the same facility where the company manufactures its Super Hornets.
The company currently only offers the new F-15X to U.S. allies.
The DoD is expected to issue its FY20 budget request on Feb. 4.