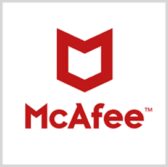 McAfee"™s device-to-cloud data protection and threat prevention products are now available on the Department of Homeland Security"™s approved product list under the Continuous Diagnostics and Mitigation Program.
The company said Thursday the DHS list now includes the McAfee MVISION portfolio family of security technologies and the ePolicy Orchestrator on Amazon Web Services.
Kenneth Kartsen, vice president of public sector at McAfee, said the products"™ addition to the APL backs the company"™s commitment to the CDM program.
"We urge our federal customers to utilize the MVISION portfolio to feel empowered against an expanding threatscape," he said.
McAfee MVISION provides agencies with integrated device-to-cloud data protection and threat prevention tools that work to speed up mitigation of data loss.
The MVISION products added to the DHS APL include the McAfee MVISION Cloud, McAfee MVISION Endpoint and McAfee MVISION Mobile.
DHS also allowed the McAfee ePO Platform to be available for AWS commercial regions and GovCloud.