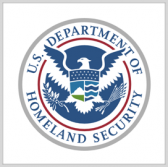 The Department of Homeland Security has announced the topics for the 19.1 pre-solicitation under the department"™s Small Business Innovation Research program.
The pre-solicitation covers eight planned topics for DHS Science and Technology Directorate projects and two subject areas that support the Countering Weapons of Mass Destruction Office"™s missions, DHS S&T said Friday.
William Bryan, the DHS's acting undersecretary for science and technology, said the SBIR initiative provides an opportunity for small businesses to offer their products and services that can address the needs of the DHS, as well as U.S. first responders.
"As the research and development arm for the Department, S&T encourages all eligible U.S. small businesses to learn more about the planned topic areas for the upcoming SBIR solicitation as a first step toward addressing homeland security technology needs," he said.
The DHS will accept questions regarding the technical topics through Dec. 18.
The SBIR program was established in 2004 to foster private sector funding for SBIR projects and encourage small businesses to contribute to federal R&D efforts.