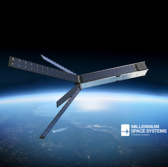 Boeing's Millennium Space Systems subsidiary has completed an 18-month mission to demonstrate the performance of small satellite subsystems while in orbit.
Millennium said Tuesday it decomissioned the ALTAIR Pathfinder satellite through an operations center in El Segundo, Calif., and spent more than 13K hours to address technology risks.
The internally funded mission aimed to showcase spacecraft components built to manage data, radio frequency communications and quality of power, as well as the platform's attitude determination and control system.
Griffith Russell, mission director at Millennium, said the ALTAIR satellite worked to deliver technical performance data that can support customers, Boeing's space business and other stakeholders.
The satellite was equipped with 3D-printed components, solar array deployment mechanisms, batteries, processors and avionics systems.
Millennium developed ALTAIR in less than one year and is scheduled to launch initial operational satellites in 2019.
Kratos Defense and Security Solutions provided software to support the on-orbit demonstrations.