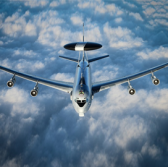 Boeing has handed an updated airborne warning-and-control system aircraft over to NATO, the 14th and final platform the company modernized to help the international alliance comply with Europe's navigation and air traffic management standards.
NATO received the E-3A AWACS unit equipped with five digital displays for the flight crew to view data on the plane's engine, navigation and radar systems, Boeing said Tuesday.
The company replaced aircraft dials that were built in the 1970s.
Boeing modernized the alliance's first E-3A at various facilities in Seattle and completed the initial delivery in November 2016. Modernization of the 13 remaining units took place in Manching, Germany.
The alliance uses its AWACS fleet to perform command-and-control, deployment and airborne surveillance missions.