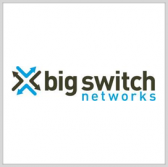 Big Switch Networks has received Department of Defense certification and Federal Information Processing Standard 140-2 validation for the vendor's suite of cloud and data center networking platforms.
The company said Tuesday its Cloud-First Networking portfolio is included in the DoD Information Approved Products List and designed to help government clients comply with requirements under the Modernizing Government Technology Act.
"With the Administration"™s cloud focus and information technology modernization efforts, we recognize the critical role Cloud-First Networking plays in government transformation initiatives," said Mike Walsh, director of Big Switch's federal business.
Walsh added the company has implemented measures to complete compliance certification processes that align with the Risk Management Framework and the Federal Information Security Management Act.
Big Switch also partnered with Dell EMC, Hewlett Packard Enterprise and Edgecore to distribute software-based networking products to the government sector.