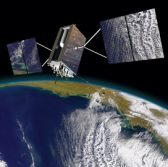 Lockheed Martin has started to upgrade the U.S. Air Force"™s legacy ground control platforms as the service prepares to launch in December the first GPS III satellite aboard SpaceX"™s Falcon 9 rocket, National Defense reported Friday.
Those updates to the existing ground system include contingency operation changes and the M-code signal, which is set for delivery by 2020.
Johnathon Caldwell, program manager for navigation systems at Lockheed, said the company delivered in August the GPS III Space Vehicle 01 to Cape Canaveral in Florida and intends to use the ground system to test and integrate new satellites.
According to the report, Block 0 of the Raytheon-built operational control system is now ready to support the GPS III SV01 launch and that the company expects to complete OCX Block 1 by 2021.
"We are good to go. So long as the other confluents are on track, we will be good for the launch in December," said Rod Hodson, deputy OCX program manager at Raytheon.
The report said Raytheon plans to combine proposed OCX Block 2 capabilities into Block 1, which Hodson said has transitioned to the integration-and-testing phase.
"A lot of the work we did for Block 0 feeds into Block 1 and that"™s why we are so far along at this point," he added.