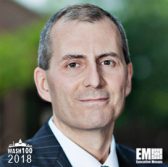 VMware and Okta have partnered to combine identity management tools with a technology platform designed to help enterprise customers manage applications on laptops, tablets or smartphones.
The partnership introduced two promotional offers for VMware Workspace ONE customers to avail of the Okta Identity Cloud via a local channel partner, Okta said Tuesday.
Workspace ONE is an intelligence-based platform built to help organizations secure access to business applications, while Identity Cloud works to help users enterprises and protect customer-facing applications.
"The needs of the modern workforce mean that public sector organizations have to empower employees to work from anywhere, on any device," said Craig Abod, president of Carahsoft.
"As agencies use more apps and devices to get the job done, access to data must only be granted after validating the user, device, application and network information," added Abod, a four-time Wash100 recipient.
Okta for VMware Workspace ONE Advanced is designed for customers who want to build on digital workspace systems for non-employees and cloud-based tools.
Okta for VMware Workspace ONE Enterprise is intended to automate information technology onboarding and offboarding processes.
Carahsoft acts as a master aggregator for VMware and Okta offerings in the public sector.