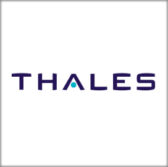 Thales' defense and security group has received a $14M delivery order to repair dome sonars installed on the U.S. Navy's H-60 multimission helicopters.
The order falls under a previously awarded basic ordering agreement and will cover repairs on 50 airborne low frequency sonar domes through November 2020, the Defense Department said Wednesday.
The Navy will obligate $10.5M in working capital funds at the time of award.
Fifty percent of work will occur in Clarksburg, Md., and the remaining 50 percent will take place in Brest, France.
A Raytheon-Thales alliance produces the AN/AQS-22 ALFS technology used to detect, track, localize and classify threats as part of anti-submarine warfare missions.
The industry team manufactures up to 20 AN/AQS-22 sonars per year, according to Raytheon.