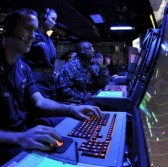 U.S. Strategic Command has issued a request for information on potential approaches to modernize and operate a nuclear command, control and communications enterprise.
Stratcom will use ideas from commercial and academic entities regarding the transition of the Defense Department toward a new NC3 environment, the U.S. Air Force said in a FedBizOpps notice posted Tuesday.
The command seeks concepts about factors and characteristics that could define what responsibilities, missions and roles the organization should undertake to manage the future system within the 2030-2080 time frame.
Stratcom also wants to determine the policy and technical challenges that may arise in the NC3 architecture design modernization process.
Interested parties have until Feb. 15 to submit ideas in white paper format with no more than six pages.
Gen. John Hyten, commander of Stratcom, will discuss collected input with the deputy defense secretary, chairman and the military chiefs of staff at a joint meeting scheduled to take place in April of next year.