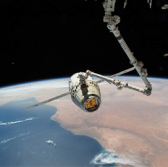 A SpaceX-built cargo spacecraft is scheduled to launch early next month at Cape Canaveral Air Force Station in Florida to deliver scientific experiments, hardware and crew supplies to the International Space Station.
The Dragon cargo ship's targeted Dec. 4 liftoff on a Falcon 9 rocket will mark SpaceX's  16th Commercial Resupply Services mission under a contract with NASA, the agency said Saturday.
The spacecraft will carry scientific investigations such as the third phase of the Robotic Refueling Mission, which explores approaches for storage and replenishment of cryogenic spacecraft fuel.
Other experiments on the flight will study molecular factors behind spaceflight-induced muscular abnormalities, test laser ranging observations involving Earth's topography and forests, investigate carbon steel material corrosion and demonstrate liquid methane transfer in space.
SpaceX completed its 15th cargo delivery mission in August and brought 4K pounds of cargo from the orbiting laboratory to Earth's surface using the Dragon spacecraft.