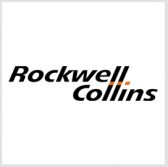 Rockwell Collins will unveil a new aircraft simulation system and a new data security product at the upcoming Interservice/Industry Training, Simulation and Education Conference.
The company said Monday it will also demonstrate live, virtual training; the Coalescence mixed reality system; the Integrated Digital Vision System; and the Enhanced Reality Vision System during the event taking place Nov. 26 through 30.
The IDVS is a wearable, head-up system that uses infrared, night vision and symbology to provide situational awareness at any time of the day, while the ERV-30 provides users with adaptive augmented reality.
Rockwell Collins will also feature other existing products including the EP-8100 image generation system and the WholeEarth visual synthetic environment.