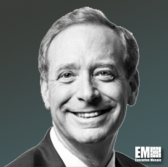 Brad Smith, president of Microsoft, has said the company hopes to collaborate with the Trump administration and Congress to safeguard the U.S. population against cyber threats, CNBC reported Wednesday.
Smith told CNBC in an interview at the 2018 Web Summit held in Portugal he believes the results of midterm elections will not affect the federal government's security missions online.
The report noted Microsoft seeks to help drive global efforts to counter cyber threats.
"We're hoping to see governments as well as companies and organizations from across civil society endorse the kinds of principles that we need: principles that will protect civilians, principles that will protect elections, principles that will protect the availability of the internet," Smith added.