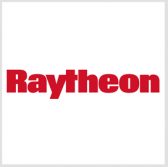 Raytheon has received an $11.5M cost-plus-fixed-fee contract from the U.S. Air Force to provide research and development services as part of the Defense Advanced Research Projects Agency's Millimeter-Wave Digital Arrays program.
Raytheon will develop digital tile architectures as well as integrated and scalable apertures equipped with transmit-and-receive features to support the MIDAS initiative's array technology goals, the Defense Department said Monday.
The Air Force will obligate $2.9M from fiscal 2018 research and development funds at the time of award.
Work will take place in El Segundo, Calif. through Nov. 4, 2020.
The MIDAS project aims to develop and demonstrate digital beamforming array technologies at millimeter wave frequencies that may enable communication and sensing hardware to handle new multiple-input/multiple-output techniques as well as multi-function and multi-beam phased array operations.