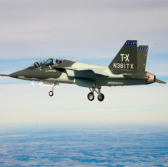 Randy Deidrick, ground-based training systems lead for the T-X program at Boeing, has said the company intends to achieve full operational capability for the T-X trainer aircraft in 2034, National Defense reported Wednesday.
"Part of what we"™ve been doing in these two months is familiarizing our customer with what we"™ve already developed, what we already have, and now we go through the [engineering and manufacturing development] program over the next couple of years," Deidrick told reporters Tuesday at a conference in Orlando, Fla.
He said Boeing intends to pursue international sales and market the aircraft for other missions.
"We see a large market for the T-X aircraft and training system throughout the world," he added.
The U.S. Air Force awarded Boeing in September a potential 16-year, $9.2B contract to build up to 475 T-X trainer aircraft and 120 ground-based training systems in partnership with Saab.