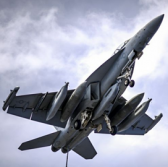 Northrop Grumman has partnered with Harris and a Comtech Telecommunications subsidiary to demonstrate existing jammer systems for integration into the U.S. Navy"™s EA-18G Growler electronic warfare aircraft.
Northrop said Wednesday it formed the team after it received in October a potential 20-month, $35M contract from Naval Air Systems Command to support the service"™s Next Generation Jammer-Low Band program.
Harris and Comtech PST will respectively supply their electronic attack systems and radiofrequency amplifier platforms for the NGJ-LB program.
Paul Kalafos, vice president of surveillance and electromagnetic maneuver warfare at Northrop, said the team will leverage experience in technology development and deployment to help the Navy maintain its edge in combat.
The NGJ platform aims to replace Growler"™s ALQ-99 tactical jammer to allow the aircraft to counter hostile communications and air defense systems.