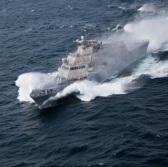 Lockheed Martin is modernizing littoral combat ships of the U.S. Navy, National Defense Magazine reported Friday.
Joe DePietro, vice president of small combatants and ship systems at Lockheed, said Thursday prior to the commissioning of the USS Sioux City on Monday, that the LCS modernization seeks to increase the ships"™ firepower and survivability.
The program involves equipping the fleet with a naval strike missile, a surface electronic warfare improvement and the integration of the Raytheon SeaRAM anti-ship missile defense system and a Multiband Terminal for protected communications.
Lockheed is also working on the designs and features for the Navy"™s future frigate, the FFG(X).
The service aims to build 20 new guided-missile frigates, with the first ship entering operations in fiscal year 2020, according to the report.
USS Sioux City is the 13th LCS and the sixth Lockheed-made Freedom class to enter the Navy fleet.
Lockheed is competing with Austal USA, Huntington Ingalls Industries/Ingalls Shipbuilding, Fincantieri/Marinette Marine and General Dynamics' Bath Iron Works to conceptualize the design of the FFG(X).