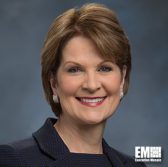 Lockheed Martin CEO Marillyn Hewson has said she believes Congress and the Defense Department still consider the development of hypersonic weapons as a funding priority, the Washington Business Journal reported Wednesday.
"I do think Congress recognizes it, the services certainly do and at the highest levels of the Pentagon they very much recognize it," she said Wednesday at a Credit Suisse investors conference in Palm Beach, Fla.
"So I"™m not seeing any backing off from hypersonics. In fact, I have a sense of there"™s a focus on go faster, go faster, because we need the capability to our men and women in uniform."
Her statements came in response to concerns that a possible defense budget cut in fiscal 2020 and a Democratic majority in the House could have an impact on hypersonics development work, according to the report.