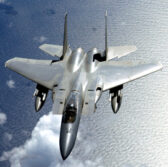 Boeing has awarded Lockheed Martin a pair of contracts to produce and integrate multifunction sensor systems into the U.S. Air Force's F-15C jets.
Lockheed said Tuesday it will manufacture 19 Legion Pod low-rate initial production systems under an LRIP contract and will test, qualify and install sensors over a 28-month period under an engineering and manufacturing development contract.
Legion Pod is equipped with an infrared technology that works to detect targets in a radar-denied environment and an open architecture designed to facilitate simultaneous multisensor operations.
Lockheed expects to complete the initial batch of sensor pods under the EMD phase early next year.
The company added it aims to deliver the first production units and spares beginning in 2020 to support the Air Force's initial operational capability and deployment efforts.