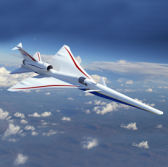 Lockheed Martin"™s Skunk Works division has started to build a supersonic demonstrator aircraft at its facility in Palmdale, Calif., under a potential $247.5M contract that NASA awarded in April.
The X-59 Quiet Supersonic Technology aircraft is designed to travel at a speed of approximately 940 miles per hour at 55K feet and reduce sonic boom noise to 75 perceived level decibel, Lockheed said Friday.
"The long, slender design of the aircraft is the key to achieving a low sonic boom," said Peter Iosifidis, Low Boom Flight Demonstrator program manager at Lockheed"™s Skunk Works unit.
Lockheed expects X-59 to perform its initial flight in 2021 in order to help NASA gather public feedback to develop a commercial noise standard for supersonic travel.