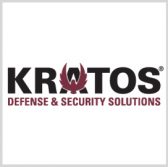 Kratos Defense and Security Solutions has finished the third stage of a four-phase study that seeks to move a command-and-control ground system for military satellite communications to the U.S. Air Force"™s Enterprise Ground Services architecture.
The company said Wednesday EGS is a service-based ground architecture built to help Air Force Space Command protect assets and counter emerging threats in space.
Kratos demonstrated the milsatcom EGS deployment and associated ground system capabilities in less than 10 minutes through the use of virtualized applications and dynamic resource allocation under the study"™s third phase that concluded on July 12.
The 27-month pathfinder study focuses on the migration to EGS of the Command and Control System-Consolidated ground system that runs a fleet of more than 20 milsatcom satellites across four various constellations.
Kratos announced the completion of the EGS deployment study"™s second phase in August and expects to conclude the final phase in December.