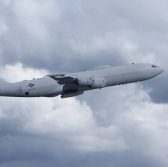 IAP Worldwide Services has received a potential one-year, $76.8M contract modification to provide logistics support services for the U.S. Navy"™s E-6B Mercury airborne command post aircraft.
The company will maintain and support E-6B weapon system components, associated aircraft equipment and support sites, the Defense Department said Thursday.
IAP will perform work in Oklahoma, Maryland, Nebraska and California through November 2019 under the modification, which exercises the third option year of a potential $54.2M contract originally awarded in August 2015.
The company inherited the contract after it acquired in 2015 the aviation and tactical communications business units of Leonardo DRS, then DRS Technologies.
Naval Air Systems Command will obligate $51.6M in fiscal 2019 operations and maintenance funds at the time of award.