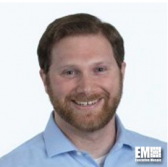 Seth Abrams, federal civilian cyber manager at General Dynamics"™ information technology business, has recommended methods and tools for IT system operators to keep up with the changing cybersecurity landscape and stay ahead of potential risks.
He wrote in a blog entry posted Friday a "zero trust" approach can help government agencies avoid exploits that attempt to manipulate digital programs to commit malicious activity.
Abrams noted that organizations can also increase security by adopting multifactor authentication such as biometrics and conducting identity checks with a non-intrusive technique.
He pointed to DevSecOps as one method to secure the software development process, particularly during the middle of a build process and not merely at the end.
General Dynamics created a tool chain that uses the methodology to analyze static and live codes before a software platform enters the production stage.
Abrams added that machine learning and artificial intelligence technologies are key to the process of automating systems to defend against cyber attacks.
"Machine learning can identify threats and can cut through the noise by understanding what constitutes normal in your environment and what constitutes as abnormal activity," he noted.
"AI takes that a step further by adding additional data sources and context; while machine learning will recognize an anomaly when a CPU is suddenly running at 99 percent of capacity, AI can go to the next level and recognize the anomaly is actually an event."