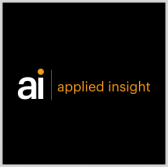 Brandon Bard, a former cyber specialist at the U.S. Air Force, has joined Applied Insight as program manager of cyberspace defense analysis at the company's center of excellence in San Antonio, Texas.
He brings more than two decades of intelligence, cyberspace and enterprise information technology experience to his new position, Applied Insight said Thursday.
"We are investing heavily in our support to the Air Force in San Antonio, and we are eager to bring our expertise to other customers clustering in Cyber City and other centers of cyber excellence," said Mike White, who leads Applied Insight"™s cyber practice supporting DoD customers.
Bard previously led a team of security and command-and-control professionals that worked on USAF's Enterprise IT-as- a-Service program.
He served as director of operations at the 68th Network Warfare Squadron and managed a content-based data loss prevention mission as well as advised senior officials on matters related to data loss-and-risk mitigation.
He also managed a 15-member cyberspace combat support team that analyzed networks, developed technology and supported intelligence and analytical efforts at USAF.