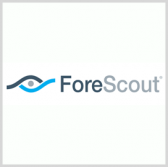 The National Institute of Standards and Technology has tapped ForeScout Technologies to take part in a research project that seeks to protect internet of things-"based devices and critical infrastructure from cyber threats.
ForeScout said Wednesday it will work with NIST"™s National Cybersecurity Center of Excellence on the IoT security project to implement best practices and cyber strategies to help the health care, energy and hospitality sectors from distributed denial-of-service attacks and other threats.
"Now is the time to act on these cybersecurity challenges and we're thrilled to be selected by the NCCoE to encourage collaboration for strong foundational principles that help mitigate risk while empowering IoT advances for innovation and commerce," Katherine Gronberg, vice president for government affairs at ForeScout, told ExecutiveBiz Wednesday.
The company helps the center build a security platform to counter malicious commands and other vulnerabilities that compromise internet-connected devices through the Mitigating IoT-Based DDoS project.
ForeScout also works with NCCoE on the Securing Picture Archiving and Communication System project that seeks to build a platform for health organizations to protect PACS from cyber vulnerabilities.
The partnership also seeks to implement multifactor authentication, network segmentation, data tokenization, point-to-point encryption and behavior analytics to safeguard property management systems from threats.