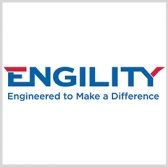 Engility will provide follow-on systems integration and engineering services for the U.S. Air Force under a potential $30M contract.
The company will deliver the services in support of the service branch's Space-Based Environmental Monitoring and Space Overhead Persistent Infrared platform, the Defense Department said Monday.
The service will obligate $15.5M in fiscal 2019 development, research and evaluation funds; $1.9M in operations and maintenance funds; and $784K in space procurement funds at the time of award.
Contract work will occur in El Segundo, Calif., through Feb. 28, 2021.