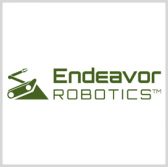 Endeavor Robotics is vying for a pair of U.S. Army programs to build robotic platforms that are intended to have plug-and-play and interoperable functions, Defense News reported Monday.
The Massachusetts-based company will compete with QinetiQ North America under a a potential $429.1M engineering and manufacturing development contract for the Common Robot System-Individual.
CRS-I is designed to have a sensor technology for soldiers to detect and counter threats when they perform field missions.
The Army could name the winning manufacturer in the first quarter of 2019.
The report added Endeavor is pursuing a contract to produce the Common Robotic System-Heavy, which the service branch expects to weigh between 500 pounds and 1K pounds, as opposed to the CRS-I weight requirement of less than 25 pounds.
Tom Frost, president at Endeavor robotics, told Defense News in an interview the company's CRS-H offering will build on the Kobra platform.