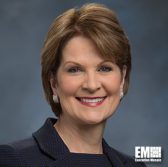 The Labor Department has approved Lockheed Martin"™s proposed framework for apprenticeship programs conducted at the Bethesda, Md.-based defense firm's U.S. locations.
The company said Tuesday that its National Standards of Apprenticeship covers workforce development initiatives such as on-the-job training and classroom instruction for advanced manufacturing capacities.
Lockheed said it aims to facilitate more than 30 technical training programs under the DOL national standard which will provide workers with access to time-based, competency-based, and hybrid apprenticeship programs for highly-skilled manufacturing occupations.
The company pledged in July 2018 to offer 8K new apprenticeships over the next five years.
Lockheed"™s Chairman, President and CEO Marillyn Hewson said the firm is looking forward to continuing its partnership with the DOL to expand the apprenticeship programs and create opportunities for American workers.
The newly established national standards were based on the company"™s nine-week Advanced Manufacturing Technician Apprenticeship Program, a DOL-certified initiative under Lockheed"™s space business.
The program was launched in partnership with the Colorado Department of Labor and Employment and covers training for electronic, mechanical, electromechanical and optical manufacturing work.