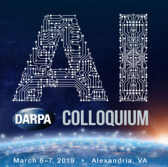 The Defense Advanced Research Projects Agency plans to host a two-day conference in March to provide information about DARPA's artificial intelligence research and development programs to Defense Department researchers and industry stakeholders.
AI Colloquium will take place from March 6 to 7 in Alexandria, Va., and seeks to explore the potential applications of the technology in DoD missions, DARPA said Friday.
Peter Highnam, deputy director of DARPA, said the agency currently pursues more than 20 programs that aim to advance AI from what he calls a "second wave" of machine learning to a "third wave" of contextual reasoning and supports another 50 programs that leverage the technology.
The conference will offer an update on the Artificial Intelligence Exploration program that focuses on 18-month feasibility studies.
DARPA noted the event will include a panel discussion on the ethical aspects of AI advancement and poster sessions meant to connect attendees with agency researchers.