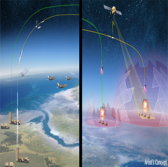 Three companies have received separate contracts to build propulsion technologies intended to power a ground-based weapons delivery platform as part of the Defense Advanced Research Projects Agency and the U.S. Army"™s joint Operational Fires program.
Aerojet Rocketdyne, Exquadrum and Sierra Nevada Corp. will support the OpFires initiative that seeks to demonstrate a ground system that can launch hypersonic boost glide weapons to engage time-sensitive targets, DARPA said Friday.
The program's first phase will run for 12 months and focus on research and development of booster technologies for use with large tactical missile launchers.
Phase 2 will involve updating designs and conducting hot static or fire tests beginning in late 2020. The program will conclude with end-to-end flight tests sometime in 2022.
"OpFires represents a critical capability development in support of the Army"™s investments in long-range precision fires," said Maj. Amber Walker, OpFires program manager at DARPA.