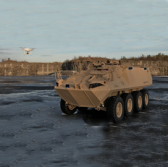 Denmark-based MyDefence Communication and General Dynamics' land systems business have equipped a light vehicle with sensors made to detect enemy unmanned aerial systems.
MyDefence said Monday it developed networked radio-frequency sensors designed to help in-vehicle soldiers identify and dismantle drone threats, and General Dynamics supported the integration of this technology into vehicle platforms for military operations.
The sensors use a standard tactical link to connect and respond to remote command and control tools.
The counter UAS technology is also geared to operate with battle-management systems from third-party developers, said Luke Layman, CEO of MyDefence's North American arm.
The tech further supports the equipped land vehicle's capacity to launch smart jamming attacks against drones.
The two firms will demonstrate the integrated sensors at NATO's Non-Lethal Technology Exercise.