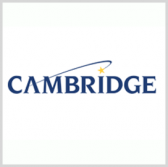 Cambridge has received Maturity Level 3 appraisal under the CMMI Institute's Capability Maturity Model Integration program for efforts to develop and deliver services.
The company said Thursday its delivery and service development functions underwent a review conducted by ACME Process Group and met objectives within proximity of all process areas identified by the institute.
The certification comes one year after Cambridge completed CMMI Maturity Level 3 appraisal for software development.
Kimberly Harokopus, Cambridge CEO, said that two ratings reflect the company's commitment to serve government and commercial clients.