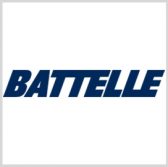 Battelle has landed an award from the R&D Magazine for its analytical software offering that works to detect and identify biological hazards.
The nonprofit company said Tuesday its ThreatSEQ web-based service was recognized at the 2018 R&D 100 awards ceremony held Friday in Orlando, Fla.
Omar Tabbaa, director of computational biology at Battelle, said the award seeks to demonstrate the company's collaboration with government and international industry stakeholders to provide biosecurity platforms.
ThreatSEQ is a DNA screening technology that works to detect biosecurity risks through classification of genetic sequences and uses a threat algorithm to perform data analysis and search for any matches from the system's database.