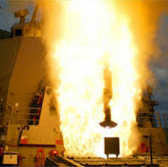 BAE Systems"™ land and armaments business has received a $45.9M contract modification to provide mechanical engineering support for the U.S. Navy"™s high-priority ballistic missile defense system.
The Defense Department said Friday the company will provide cable, canister, canister support and mechanical equipment as well as related ancillary materials for the MK41 Vertical Launch System as part of the agreement.
The modification also covers design and systems engineering services, integration support and material ordering requirements for the missile launch system.
The Navy will obligate $1.2M from fiscal 2017 shipbuilding and conversion and fiscal 2018 weapons procurement funds at the time of award.
Work will take place in Minneapolis, Minn. and Aberdeen, S.D. through March 2020.
The MK41 VLS is a multi-mode missile system designed for the surface combatants of Ticonderoga and Arleigh-Burke class vessels.