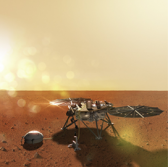 Aerojet Rocketdyne has built the propulsion devices that powered a NASA spacecraft during a journey to Mars as part of a mission to study the planet's seismology, rotation and internal temperature.
InSight, which landed Monday on the Martian surface, used MR-107N 50 engines, an RL10C-1 main engine, MR-106 reaction control thrusters and MR-111C thrusters in its nearly six-month trip to the red planet, Aerojet Rocketdyne said Monday.
The company also supplied the lander's helium pressurization tanks.
"We provided propulsion for every phase of this important NASA mission, from launch to landing," said Eileen Drake, Aerojet Rocketdyne CEO and president.
NASA launched the probe May 5 from Vandenberg Air Force Base in California aboard an Atlas V rocket.
Lockheed Martin built the spacecraft to help the space agency study the deep interior of Mars, including the depth of the planet's crust, mantle and core.
Multiple Europe-based organizations provided different instruments to support the mission.