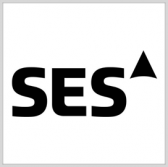 SES Networks has partnered with IBM to help customers connect to a cloud computing platform from anywhere via a non-geostationary satellite network.
Luxembourg-based SES said Thursday it will use the O3b Medium Earth Orbit system to offer fiber-like connectivity services on IBM Cloud to the government, maritime, aerospace and energy sectors.
The partnership seeks to help clients deploy cloud-based tools and applications even when they operate in areas where a terrestrial network is limited or nonexistent.
Gabe Montanti, global offering executive for IBM Cloud, said the company also works with Direct Link service providers to help enterprise customers use cloud, internet of things, analytics and artificial intelligence services.