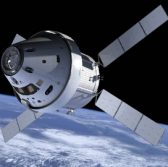 Representatives from NASA, the European Space Agency and industry have announced that the first service module for the Orion spacecraft will be delivered to the U.S. in late October, Space News reported Wednesday.
Mike Hawes, vice president and Orion program manager at Lockheed Martin, said during the 69th International Astronautical Congress that the European-made service module will be sent to the Kennedy Space Center on Oct. 29 to be installed on the Orion spacecraft and tested for launch aboard the Space Launch System.
The Exploration Mission-1 program will remain on track for a June 2020 launch if the first European service module is delivered as planned in the coming weeks, according to NASA Orion Program Manager Mark Kirasich.
The second and third service modules are now under production at Airbus"™ facility, while the fourth module will be submitted for consideration to ESA member states in a ministerial meeting scheduled in late 2019.
Oliver Juckenhofel, vice president of on-orbit services and exploration at Airbus, explained that the aerospace company is incorporating lessons learned from the first service module to modify the design of the following modules.