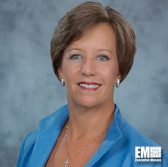 Rebecca Cowen-Hirsch, senior vice president for government strategy and policy at Inmarsat Government, has said government and military leaders should leverage commercial satellite communications platforms to support critical missions through the satcom-as-a-service business model.
Cowen-Hirsch wrote in a MilsatMagazine piece that the business model is designed for global mobility and to deliver "end-to-end, communication infrastructure from resilient satellite systems to a robust ground infrastructure, as well as terminals that are type approved to work on that network."
Satcom as a service provides the government an opportunity to build up its current military satcom capabilities with commercial network infrastructure and terminals as well as offer users global access to satcom connectivity across air, ground and maritime domains, she noted.
Cowen-Hirsch said the business model allows ease of operation, prevents agencies from spending on new software versions and other technology updates and delivers data rates to support mission requirements "at a moment"™s notice."
"In other words, there are no more guessing games or over-leasing and under-leasing," she added.
"This frees up military members from administering disparate networks, allowing them to focus on critical operations, while maintaining full mission effectiveness through agreed service levels."